CEO of CMT Digital Colleen Sullivan will present a report on venture investments in cryptocurrencies and blockchain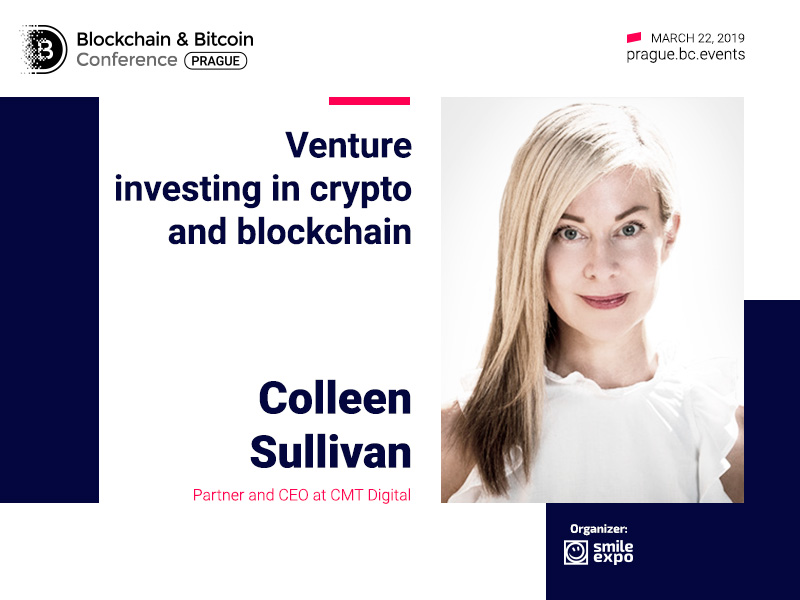 Speaker of Blockchain & Bitcoin Conference Prague, which will take place in the capital of the Czech Republic on March 22, will be Colleen Sullivan, CEO of CMT Digital investment firm.
Colleen Sullivan will deliver a presentation on venture investments in cryptocurrencies and the blockchain technology. To start with, the speaker will discuss the state of the industry in venture capital and explain what types of deals venture capitalists should be looking for. Besides, the speaker will describe CMT Digital investing thesis and what makes a solid investment in the industry.
Colleen Sullivan has been working in finance since 1999, when she co-founded a company called iOptions Group LLC, which advised individuals with employee stock options how to hedge them with listed options. Later she held different positions (including top executive) in a number of legal and fintech companies.
Today Sullivan is the CEO of CMT Digital and a partner with the broader CMT Group. The firm focuses on cryptocurrency trading and investments in the blockchain technology. Besides, the firm settles customers' legal issues related to the use of digital currencies and blockchain.
The status of the fintech specialist is confirmed by the fact that Colleen Sullivan is also a Co-Founder and Managing Member of Sullivan Wolf Kailus LLC, a boutique law firm. She advises to hedge funds, investment firms, and private equity owners on the issues of international deals and legal compliance.
Besides, Sullivan consults a number of fintech companies and startups and is a member of committees and working groups engaged in the finance regulation.
---
Meet new speakers and key news of the conference