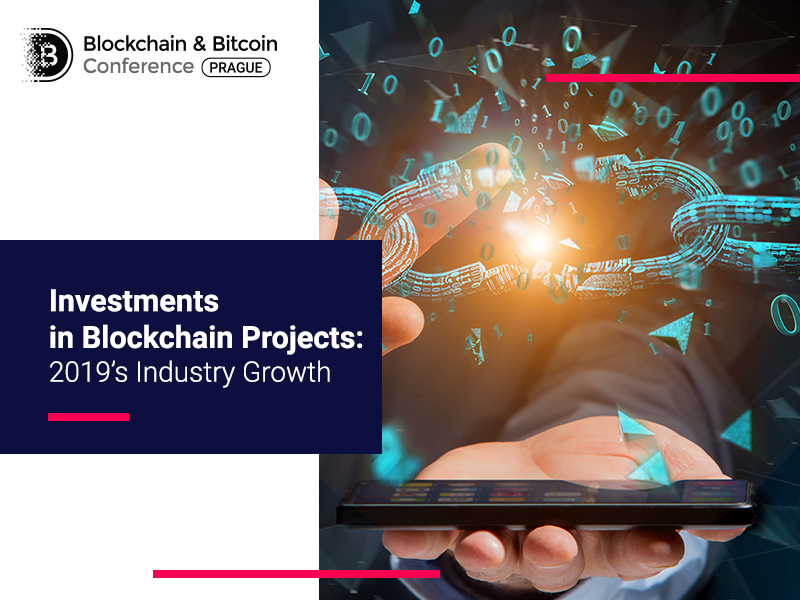 According to the forecasts of IDC, the total growth of the blockchain market will reach 80% in 2019. Analysts describe the USA, Western Europe, and China as major investors, while the volume of technology investments is expected to be $15.9 billion by 2023. Well, what about the current market condition? What projects win the greatest investments?
Investments in blockchain projects in 2019

In just the first six months, one put $822 million into blockchain startups. It is reported by Outlier Ventures stressing the high entrepreneurial activity in the sector. Active blockchain project investors include US-based Andreessen Horowitz Venture Fund (supported four initiatives totally amounting at $75 million this year) as well as Digital Currency Group and Blockchain Capital.
After 2018, a hard year for the cryptocurrency field, the market became stable, separating weak players and introducing new projects. At the same time, the overall volume of industry financing reduced: ICO and startups raised $3.38 billion in 2019 in general as compared to $12.86 billion in 2018.
This state of affairs is caused by the fact that investors are now more careful in regard to blockchain projects and their requirements are stricter. Besides, different countries have tightened the cryptocurrency regulation. It is good for the industry because dubious projects are dropped out at the start, while more and more serious players enter the market. Moreover, an increasing number of companies develop their own blockchain products (e.g. JP Morgan and Target).
Blockchain projects: review of the 2019's most popular ones
Despite the fourfold decrease in major crypto technology cash injections in comparison with 2018, cryptocurrency exchanges remain in high demand. These very projects are the most attractive to investors. By the way, another trend is direct investments in protocols conducted in exchange for tokens or shares. Let's examine several successful projects of the current year.
Bithumb
A South Korean crypto exchange that has managed to receive $200 million in funding from Japan's ST Blockchain Fund controlling capitals of investors from various countries, including the USA. Funds provided to Bithumb allow Blockchain Exchange Alliance (BXA) to expand the cryptocurrency exchange, adding new pairs.
Although Bithumb has repeatedly suffered from hacker attacks, it is considered to be one of the world's most reliable crypto exchange platforms. It primarily differs from others in huge trading volumes: on average, 1 billion dollars per day. Founded in 2013, the company has been extensively operating on South Korean and Japanese markets: the exchange functionality is designed for Asians.
The crypto exchange offers a fiat currency option (unfortunately, KRW rather than USD) and an offline customer support center. The company also constantly upgrades protection against hacking.
Bitsoda
A cryptocurrency exchange based in Singapore. It features a user-friendly interface adapted to both PCs and mobile devices. A platform development team has vast experience in fintech and system safety. Bitsoda obtained money for its evolution from such companies as Digital Finance Group, Ledger X, Circle, etc.
This year, the cryptocurrency exchange is growing and entering the international market: not only does the company offer a user-friendly interface for newcomers, but it also gives the alluring advantages to experienced currency traders. The platform has an API interface, allows dividing wallet types, and ensures a high level of protection.
Furthermore, Bitsoda is the first-of-its-kind exchange that designs a social investment model and a mechanism for developing projects from different countries, supporting small and medium businesses. Bitsoda has launched an advertising campaign allowing clients to earn ETC. To get this currency, they should repost news about the company and encourage its popularity.
Bitso
The biggest Mexican cryptocurrency exchange founded in 2014. Currently, the company has new investments from Ripple, Coinbase, Jump Capital, Digital Currency Group, and Pantera Capital. A precise sum of money is unknown, but funds will be spent to develop and expand the platform.
The cryptocurrency is going to conquer Argentina and Brazil. Earlier, Bitso cooperated with US-based Ripple, participating in establishing the RippleNet-based payment corridor between the USA and Mexico. It also supports Ripple Gateway. Exchange customers are provided with API tools and security guarantees. The latest updates allow to integrate the platform into third-party services (for instance, trading ones).
When it comes to global positions of blockchain-based projects, this year's Forbes 50 Fintech list includes six large companies applying blockchain technologies or cryptocurrencies: Gemini and Coinbase exchanges, Bitfury software provider, Circle and Axoni fintech projects, and Ripple platform keeping its leading market positions.
Crypto projects by well-known companies

In 2019, blockchain is increasingly regulated, while the technology is extensively used by major players of diverse markets. In particular, finance: JPMorgan Chase's project has entered many blockchain news overviews. The US-based company has begun to develop JPM Coin, the first banking token, which price is equivalent to 1 dollar and should remain stable. It is unknown when the token will be launched, but it has been already successfully tested in the JPMorgan Chase system. The banking token will allow users to carry out transactions any time of the day or night at maximum speed.
Representatives of the Japanese financial sector are also in step with Americans: Mitsubishi UFJ Financial Group Bank is working on the blockchain technology. Past year, the whole group of EU banks started utilizing its solutions: Deutsche Bank, Natixis, Societe Generale, UniCredit, and many others. They have tested the we.trade blockchain platform, which is now used in a test mode by 13 countries.
Conclusion
Blockchain and cryptocurrencies are no longer a hype issue, and the industry condition has settled down. This is because technologies are evolving in a more regulated environment and are beneficial in various sectors. Such prominent players as Amazon have paid attention to blockchain technologies. State institutions use them as well. All of these aspects result in industry growth and new projects, interesting from the perspective of both practical application and investments.
Meet new speakers and key news of the conference