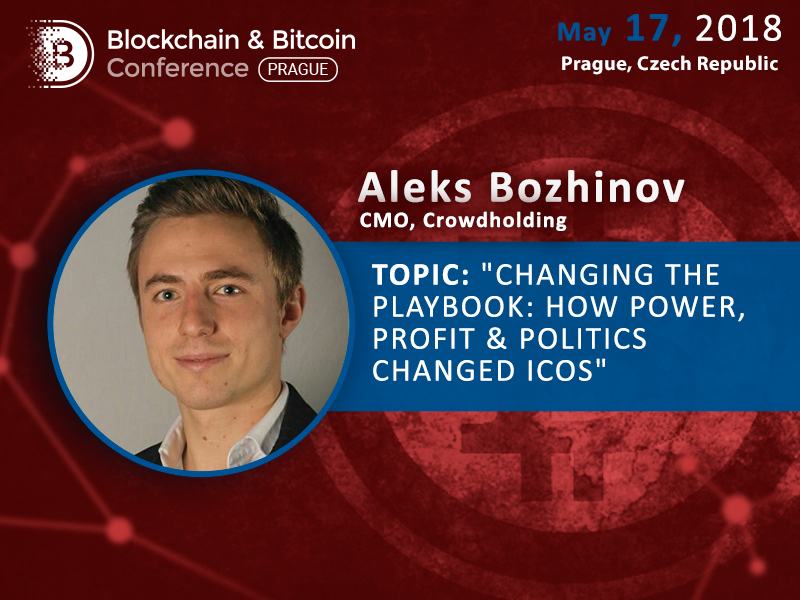 Aleks Bozhinov is a member of the Crowdholding project, a social service for startups and entrepreneurs, founder of two of his own successful startups, ex-employee at Google, and a speaker at numerous cryptocurrency and blockchain events. His presentation is dedicated to ICO and is a key presentation of Blockchain & Bitcoin Conference Prague.
The speaker will talk about ICO changing under the influence of various factors. His topic is "Changing the playbook: How Power, Profit & Politics changed ICOs".
Aleks Bozhinov previously spoke at Blockchain & Bitcoin Conference in Ljubljana and at ICO Event Amsterdam, where he talked about "growth hacking" - a fundamentally new approach in marketing. This is one of his main areas of interests and work: Alex is an expert on "growth hacking" and "marketing on a zero budget", he delivered reports on this topic at various events dedicated to marketing strategies, startups and IT.
He is also a successful entrepreneur and a blockchain enthusiast who collaborates with a number of young blockchain companies as a marketing advisor. Bozhinov's point of view on the changes in ICO under the influence of government bodies, financial structures and political forces is the point of view of a marketer, analyst and business representative.
At the conference, you can ask the speaker questions on the topic of his presentation, as well as on marketing strategies for blockchain startups and ICO.
Meet new speakers and key news of the conference