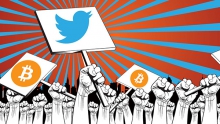 Ten major accounts dedicated to cryptocurrency that are worth signing up in Twitter.
"The first magazine in the world focusing on digital currencies" and "the most secure source of information on Bitcoin and cryptocurrencies", that has more than 50 000 subscribers.
Account belongs to the online resource of the same name devoted to cryptocurrencies, and has 23 000 subscribers. Authors call it "a Swiss bank in your head".
Personal account of Roger Ver, investor of Bitcoin projects, with 30 000 followers. Among startups supported by the author are Blockchain.Info and BitPay.
Account belongs to self-declared "messenger of Satoshi Nakamoto" and "warrior of crusade for a better high tech society" Charlie Shrem. Author is also known as a co-founder of Bitcoin Foundation.
Founder of cryptocurrency startups and businessman Erik Voorhees publishes his thoughts on prospects of digital currencies and related technologies. 25 000 subscribers read his account.
This account became popular due to discussions about scaling Bitcoin. Its author – financier and one of the executives at BTCC exchange Samson Mow – is famous as organizer of recent Hong Kong round table.
IT developer, author at CoreBitcoin and BTCRuby, Oleg Andreev talks about the future of cryptocurrencies. Readers know him as an author of articles on digital coins and anarchy related to alternative currencies.
Investor, economist and chief editor of research magazine Adamant Research Tuur Demeester has 10 000 followers.
Account belongs to entrepreneur and Internet marketing specialist Adam Guerbuez, a member of several cryptocurrency projects and Bitcoin supporter. Author is accredited with the foundation of private trading group.
Account belongs to the bitcoin forum of the same name – a source of the latest news from the world of cryptocurrencies.
Meet new speakers and key news of the conference