Blockchain-based smart cities: how technology controls urban structures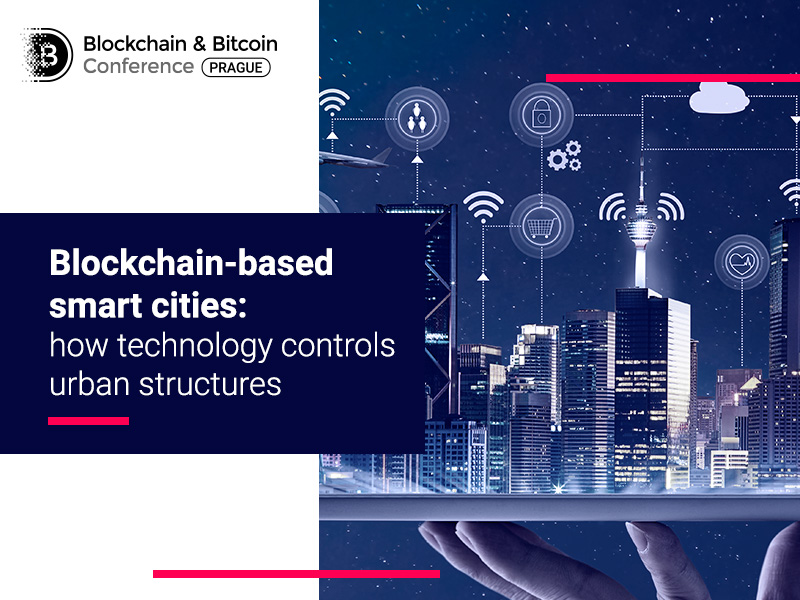 One of the promising blockchain applications today is the organization of city space. According to McKinsey & Company, the world will have about 600 smart cities by 2020.
Let's examine the concept of smart city based on blockchain and figure out how the technology can improve city structure operations.
What is a smart city?
A smart city is an ecosystem of interrelated technologies and IoT devices. They control means of transport, public institutions, hospitals, and rescue services. Besides, smart technologies allow to solve administrative and financial matters of facilities.
Currently, one is integrating blockchain into smart cities: various data are stored in the distributed ledger. This technology makes city operations more efficient. For example, it can solve such problems as overfilled roads and inefficient transport connections.
Besides, the organization of data from all installed blockchain-based IoT sensors will help to eliminate various breakdowns faster: the authorities will be able to receive automatic notifications of defects.
Moreover, McKinsey & Company expects that due to smart city systems, rescue services will be able to carry out their work 20-35% more efficient. For instance, data exchange on blockchain will allow police stations to share information with each other in a prompt and confidential manner.
Case studies of smart cities on blockchain
The integration of distributed ledger technology into modern megalopolises is quite a difficult task, but some cities are already actively working on the blockchain infrastructure.
The UAE
By 2020, the largest UAE city is going to become a blockchain-based city of the future. Therefore, Dubai launched a project called Smart Dubai supported by the urban authorities in 2014.
The project is aimed at improving transport connection, enterprise operations, traveling, and trading. The strategy for integrating blockchain into urban operations will help the UAE to save approximately $1.5 billion per year. The system includes 1000 diversified services.
By the way, the Dubai Land Department is also involved in the establishment of smart city: it has launched a blockchain system connecting house owners and tenants with suppliers of electrical power, water supply, and telecommunications.
Taiwan
Since 2018, the authorities of Taiwan's Taipei City have been cooperating with IOTA, a company developing Tangle blockchain for IoT devices.
Using this technology, Taipei is creating smart passports for all citizens – TangleID. Documents will contain all medical data on their owners and feature the high protection from information stealing.
As part of the program, one is also designing a sensor to monitor the environment condition: the device will allow to monitor humidity and temperature.
China
According to Deloitte, China is planning to create 1000 smart cities, with the country already having about 500 smart urban structures.
One of China's first cities of the future is Yinchuan that has replaced conventional money and paper passes with technologies. At the same time, citizens pay for public transport services using their faces: buses have installed a face recognition system.
Now, China is going to integrate blockchain into Xùn Xiàn. The County is chosen as a new place for establishing a smart infrastructure. The authorities are going to advance housing and public utilities as well as governmental services using blockchain.
Germany
Germany is developing a network of charge stations based on Ethereum blockchain for electric cars.
RWE's system allows to keep a record of consumed power and to conduct payments on blockchain. This solution also allows drivers to monitor charging via a special app.
The integration of blockchain will help enterprises to reduce costs and enhance the economy. Furthermore, the technology will make urban life more comfortable and safer.
---
Blockchain and its integration into various sectors will be discussed by crypto experts at Blockchain & Bitcoin Conference Prague.
Meet new speakers and key news of the conference