Application of DLT in Healthcare: Presentation by the Co-Founder and COO 23 at Consulting – Anca Petre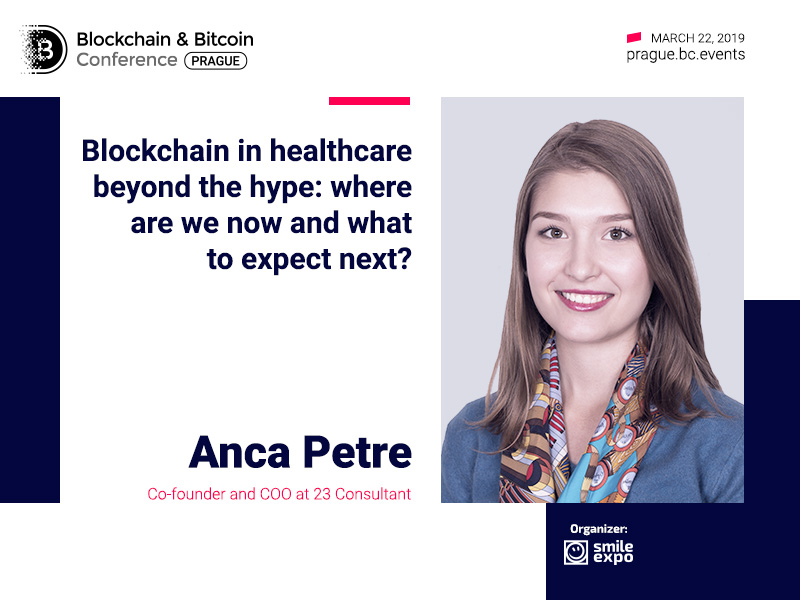 Blockchain is developing in different spheres and demonstrates a big potential to improve the medical industry. According to IBM, around 56% of healthcare providers will integrate the technology into their work by 2020.
The use of distributed ledger technology in healthcare will be discussed on March 22 at Blockchain & Bitcoin Conference Prague. Co-founder and COO at 23 Consulting, Anca Petre, will deliver a presentation titled "Blockchain in healthcare beyond the hype: where are we now and what to expect next?"
Key points:
blockchain advantages for healthcare;

how key healthcare market representatives treat blockchain;

popularization of decentralized medical apps;

how blockchain will develop in the healthcare sphere.
Anca Petre is the entrepreneur and researcher of blockchain in healthcare. The speaker has founded 23 Сonsulting – a company assisting private and public medical service providers in integration of DLT into their operations.
Being a COO at the company, the expert provides consultations to main medical market representatives, such as pharmaceutical corporations, startups and clinics.
Apart from that, Anca is the Associate Partner at Ztudium – a platform focusing on AI, DLT and crypto consulting.
---
Learn more about DLT in healthcare from the expert at the conference!
Meet new speakers and key news of the conference