Data Security Apps Will Play Major Role in DLT Industry This Year – Aleks Bozhinov, Co-Founder and CMO at Crowdholding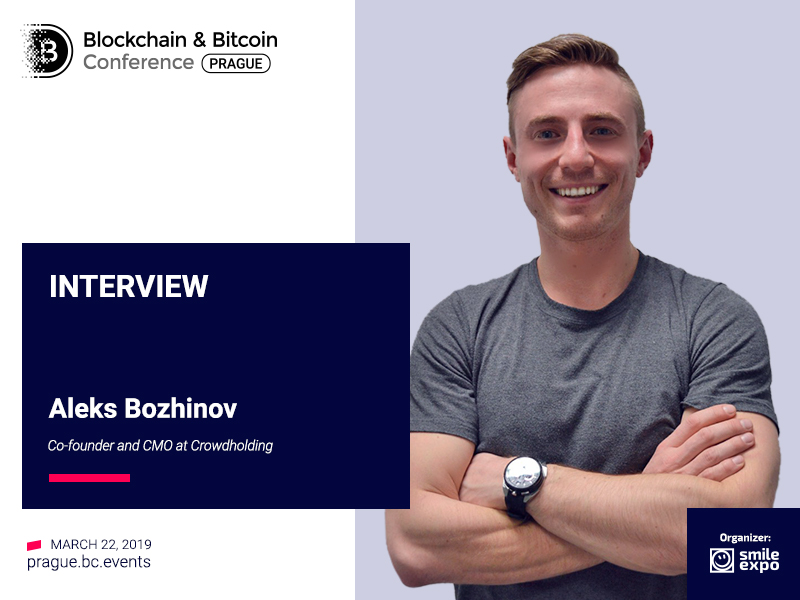 The largest segments for DApps include finance sector, value exchange, crypto and Developers tools, believes Aleks Bozhinov, Co-founder and CMO at Crowdholding.
In the interview to the Blockchain & Bitcoin Conference Prague, the expert talked about the blockchain hype, popular industries for DApps and blockchain apps regulation.
Interviewer: Blockchain & Bitcoin Conference Prague (BCP).
Speaker: Aleks Bozhinov, Co-founder and CMO at Crowdholding (AB).
BCP: How does the approach to blockchain apps marketing differ now when the hype has gone down?
AB: It seems like there is no memory of the hype moments in the blockchain industry. Crypto conferences are struggling to fill-in their seats and blockchain news networks are cutting their prices by 50%. So, the decrease of hype is having a twofold effect on blockchain projects' promotional strategies.
On the one hand, it affects marketing negatively as now more effort is required to get the same amount of interest in a project. On the other hand, now it is much easier to get premium banner spaces and launch without waiting a programmatic campaign from the top coin traffic websites.
The shift of the industry has also affected the manner in which projects have been raising money. The focus has moved towards private sales and dinners with influential people. This means the promotion strategy for the project is now aimed at investor outreach and influencer marketing. The FOMO factor has diminished as the number of projects launching in the industry has went down and people don't feel like they will miss out. The number of scams has also decreased as now projects are getting scrutinized more and crypto enthusiasts are educated about what to look out for.
BCP: In which industry do blockchain apps appear most frequently, in your opinion? Why?
AB: There are already multiple solutions in the finance sector and in the future, this industry would be fully disrupted by the introduction of decentralized solutions. However, at this particular time, a lot of solutions are seen in the value exchange segment, which basically includes platforms related to content monetization, file storage, computation, energy, data, and others.
Another large segment is cryptocurrency where thousands of coins are being created, however, a lot of those do not adhere to the definition of a DApp and thus may not be considered to be such.
The third largest segment is Developers tools, which are an essential part of building a completely new decentralized system. The lack of tools so far has been hurting many projects and it is pleasant to see an increase in this sector.
BCP: Are there many blockchain apps where 'blockchain' is just a fine word in the market? Is their number growing or decreasing? Please, explain why.
AB: Great question. It can be said that there are many non-blockchain apps that have added the word "blockchain" to their business name to boost their appearance. This has worked effectively for Iced Tea company, which stock rose 200% once they added "blockchain" to their business name. The SEC has warned public companies against such stunts.
According to CoinMarketCap, there are thousands of blockchain businesses, however, most of them have created a token which only utility is to be a transactional currency. There is no decentralized or open-source technology behind these "DApps".
Looking at the most active DApps in the industry, the top ones have several thousand active users and those are predominantly gaming or gambling projects, where the use of tokens/points/karma has a long history. So, their users are well-aware of tokenized systems and we cannot even claim that such projects are educating the community.
As long as there are no tools in place to effectively test the blockchain features of an app, the number of projects where "blockchain" is used for hype will keep growing. One way to check a DApp is through DappRadar where the number of active users is also shown.
One such active DApp is the Crowdholding platform where businesses reward the crypto community with tokens for their feedback and wisdom. There are still markets like South America and Africa where the population is only starting to actively explore the sector and I believe more apps like this would appear from these regions.
BCP: How do you think should blockchain apps be regulated on the legislative level or is self-regulation sufficient in this field? Please, explain your point of view.
AB: Solving regulatory considerations for such a niche market takes both legal and tech expertise. Crypto friendly destinations like Switzerland, Malta, Lichtenstein will lead the way and it is expected that many firms would move their offices there.
In 2019, KYC/AML processes and data-security apps will play a central role in the industry. I believe the industry can self-regulate, as long as guidelines are made available and then all customer checks are done accordingly.
Lastly, the increased availability of regulatory bodies like SEC and other fintech/blockchain legal consulting firms will make it easier for firms to adhere to regulation.
BCP: Tell us what you will be speaking about at Blockchain & Bitcoin Conference Prague.
AB: The presentation aims to help you understand, create, and enjoy this exciting new technology with confidence. Discover and see the analysis of DApps by all important metrics like users, volume, transactions, and more. I will explain what the DApps market in 2019 is and where it is heading.
Aleks Bozhinov will become a speaker at the Blockchain & Bitcoin Conference Prague, where he will deliver a presentation "A Closer Look: Insights into over 1,700 DApps".
---
Learn more about the blockchain technology from the expert at the conference!
Meet new speakers and key news of the conference