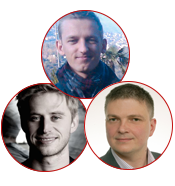 A unique event under the name Bitcoin Conference Prague will take place on May 14, 2015 in the heart of Europe - a beautiful capital of the Czech Republic. The conference will bring together the brightest representatives of industry, well-known experts and gurus of the cryptocurrency market, lawyers and specialists from all over Europe who are willing to share their experience and present the best practices for working with Bitcoin.
The list of speakers includes:
Bitcoin 2015 Section
Maciej Ziółkowski
Founder of Satoshi.pl
Creator of one of the first in the world News Sources about Blockchain Technology and author of the first Polish blog about Bitcoin - Satoshi.pl. Organizer of the first Social Lending / Peer-to-peer lending conference in Poland and one of the earliest Bitcoin events in Europe. Speaker on various Virtual Currencies Seminars. Author of many Bitcoin publications and co-author of Bitcoin related materials and Wikipedia Virtual Currencies articles.
Brian Fabian
Co-founder of Epicenter Bitcoin
Fabian Brian Crain is a Berlin-based economist and entrepreneur. He founded and co-sponsored Epicenter Bitcoin, a leading podcast about Bitcoin in Europe. Fabian is a founder and organizer of Bitcoin Startups Berlin - the largest meeting of Bitcoin users in Germany. He is also one of the founders of Bitcoin Center Berlin - a coworking space for Bitcoin industry employees. He obtained a degree in economics, philosophy and cognitive science at the University of Chicago, London School of Economics and University College London.
Mariusz Sperczynski
Managing director at BitMarket
His passion for the solutions of digital currencies has devoted for the recent 1.5 years. He created a concept of crowdtrading as a solution for startups shares traded in a decentralized exchange trading system with digital currencies, in which collaborates with Directors of the British UKDCA to have the best approach of the FCA - UK financial supervision. In BitMarket responsible for the operational side, growth in 2015 and synergies between BitMarket as one of the largest Bitcoin exchanges in this part of Europe and / in the idea of using cryptocurrency on the capital market.
Smile-Expo Company as an organizer of Bitcoin Conference Prague is working hard in order to hold a further professional conference dedicated to the cryptocurrency even better. In addition to the beautiful venue, all the guests are invited to a unique party for the entire Bitcoin community, which will last until the morning.
Detailed information – on bitcoinconf.eu.
Meet new speakers and key news of the conference