How Crowdfunding Experience Has Led to New Company Establishment. The Story of Aleks Bozhinov, Co-Founder and CMO at Crowdholding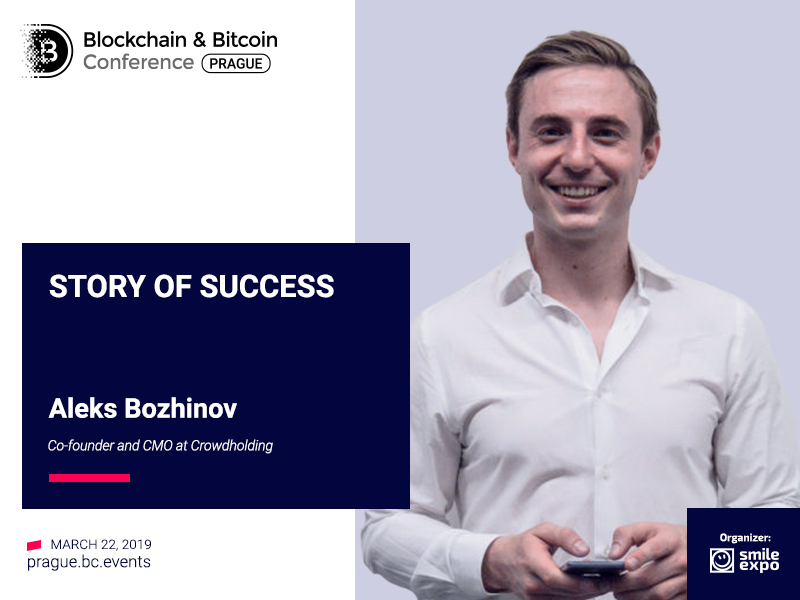 He has been involved in crowdfunding, accidentally discovered bitcoin, joined Google, and decided to assist SMEs. Today, he has founded a company, where he helps startups. He is the Co-founder and CMO at Crowdholding – Aleks Bozhinov.
On March 22, Aleks Bozhinov will become a speaker at the Blockchain & Bitcoin Conference Prague, where he will deliver a presentation "A Closer Look: Insights into over 1,700 Dapps."
We have talked with the expert about his entrance to the blockchain industry, career in Google, his company, and future plans.
"I had experience with crowdfunding, so I paid attention to ICOs"
It was 2013, and my roommate was writing a research paper on digital currencies and specifically bitcoin. I remember him walking around the apartment being exciting and preaching the future of currencies.
As many other people, I dismissed this information and moved forward with my life. I got involved in crowdfunding which has several similarities with ICOs. Then, the bitcoin and ICO terms started appearing again in 2016, and I paid more attention, as I had already seen the application of decentralisation to the startup funding process.
I'd attribute my current interest in the blockchain industry to the fact that ICOs became a popular method of decentralised funding, and I already had an experience in this.
"I wasn't looking for employment, but Google offer appeared in my inbox"
I was working for Google as a Sales Manager. At the time when I joined, Google was the best employer on the market for several years in a row and this got me excited at the interview for the position.
Joining the company was an unexpected event in my life, as I was not actively looking for employment and this offer appeared in my inbox one day. Once I joined, my duties included growing Google's revenue on the Bulgarian market in particular, but also assisting with the growth strategy for the whole CEE region.
I was on the phone with clients most of the time advising them on their online marketing and sales strategy as well as Google Ads. The reason for my departure was that I wanted to focus on entrepreneurship and growing SMEs with non-standard growth-hacking methods.
"I started believing in DLT when I saw its assistance to SMEs"
As I've been involved in crowdsourcing and crowdfunding for more than 10 years now, I have seen the potential of crowd and decentralised solutions. I profoundly believe that a business should focus on their community for building their product and strategy.
I truly started believing in the industry after seeing how crowdsourced/decentralised solutions could assist small-medium-sized businesses without significant financial burden behind it.
"Growing the team and getting it excited is important for Crowdholding"
Then, the idea to found Crowdholding came as a result of the crowdfunding campaigns that I was involved with before that. Noticing that community can be organised at a super early business stage and then seeing the value such a crowd creates without any expectation for remuneration got me excited.
There were several life-changing events in the development of Crowdholding. Our biggest stumbling block has been getting our initial investment to get the project from idea-stage to Alpha and then Beta.
Together with the other founders, we knew that we required more help to get the word out there about our business. At a time when we had no money and no users, we decided to hire a team of interns to boost our visibility. We posted job offerings in Facebook groups for expats and on all the free job listing websites. It worked! We organised a team of 10 people who helped our company get off the ground.
The presence of such a large team gave hopes to the investors who were following our progress closely. As a result, we got our first pre-seed investment. We experienced near-death situations like this one or two more times in Crowdholding's history and our approach to solving them has been the same. Grow the team, get everyone excited and find more funding.
"I learned SMEs problems and solutions to help them"
If I hadn't had the experience in the crowdfunding sector, I would have never understood the true value a platform like Crowdholding can provide to business clients. Then, having talked with hundreds of businesses while working at Google allowed me to learn about the struggles of SMEs and the solutions that can help them. I've been a mentor to several businesses and often the lack of product market fit has been the reason for their struggles. With Crowdholding, we are tapping into this and solving it with a community of thousands.
"I plan to join AI projects in the future"
Getting into the blockchain sector has been an exciting move. I've been able to join the industry at a relatively early stage and learn from my mistakes. This experience has supported me in my professional life and networking as it has increased my brand recognition.
My future plans include getting involved in several artificial intelligence projects and exploring the fields of AI and automation more closely. I believe AI will bring the next wave of revolutionary business solutions and I want to get in early.
---
Learn more about blockchain from the expert at the conference!
Meet new speakers and key news of the conference