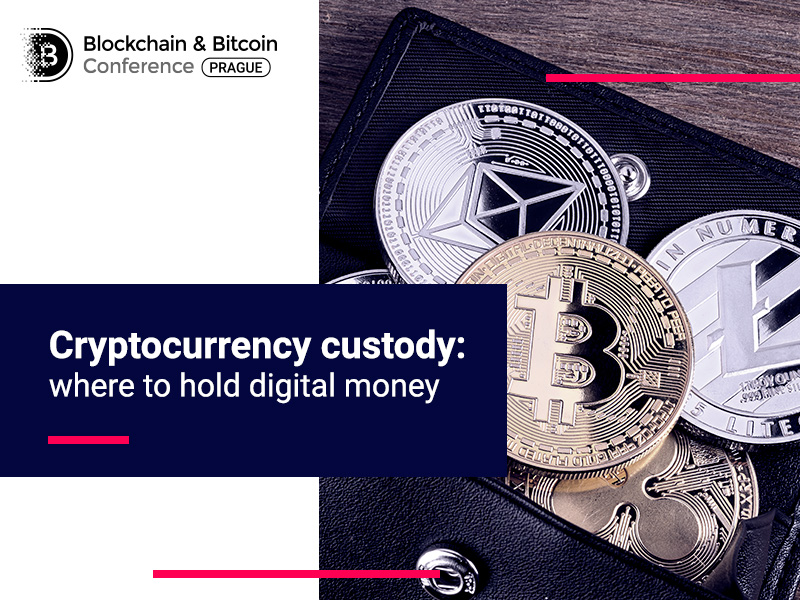 The cryptocurrency market offers its players who hold digital money a lot of ways of storing altcoins, and each of them has various advantages. Let's examine what cryptocurrency custody options are available today and which of them are the safest for digital funds.
Cryptocurrency custody

There are numerous services for storing cryptocurrencies. However, to select an appropriate one, you should take into account several aspects:
usability;

high-quality security system;

possibility to obtain coins promptly;

round-the-clock access to the service.
How to store cryptocurrency now?

Online custody
Online platforms are one of the popular ways to store digital money. Resources include online exchanges, hot wallets, and other financial services.
Crypto market experts agree that such a method of cryptocurrency custody will be appropriate for traders who frequently use digital coins and want to have an immediate access to their funds.
Moreover, professionals do not recommend to store large sums online because of poor security level and low protection from swindlers.
Offline custody
Local or cold wallets are one of the recommended options of digital money protection, as they allow to store cryptocurrency offline on PCs.
Advantages:
high security level: the wallet operates without net connection;

user-friendly installation;

convenient access to cryptocurrencies at any time.
Moreover, the high-quality security level allows to store large sums of cryptocurrencies on offline wallets. Therefore, this is a perfect option for users desiring to save a huge amount of coins for a long time.
Hardware devices
The next safe method of altcoin custody is hardware wallets. It is individual portable devices, which can be acquired additionally and can help to store a great volume of cryptocurrencies without the necessity of regular transactions.
Key advantages of hardware wallets are reliable protection and portability.
At the same time, choosing this option of digital money custody, users should remember that they should buy special devices. By the way, the withdrawal of funds will require some time.
Paper wallets
Paper wallets are printed symbol combinations or QR codes generated by a special service.
The core advantage of this custody method is the reliability because it is impossible to conduct transactions without an access to the paper medium.
Disadvantages of paper wallets are the possibility to lose the paper with information and the necessity to always carry around the paper medium.
How to store cryptocurrency safely?

To make cryptocurrency custody as convenient and safe as possible, professional crypto market players recommend to:
analyze your future cryptocurrency actions;

assess the frequency and goals of digital money application;

examine a feedback on the selected service.
Tips on safe custody of coins vary and depend on the way you choose. For example, to provide security of funds on the exchange, you should save recovery keys in a highly protected place and store only a sum to be involved in coming transactions on the platform.
Moreover, it is better to use a separate hard disk on PC cold wallets. If you prefer hardware custody, make sure that the device manufacturer has a solid reputation.
---
Blockchain experts will discuss cryptocurrencies at Blockchain & Bitcoin Conference Prague.
Meet new speakers and key news of the conference