Combining the interest in law and new technologies. The Story of Artur Kuczmowski, Senior Partner at Thompson&Stein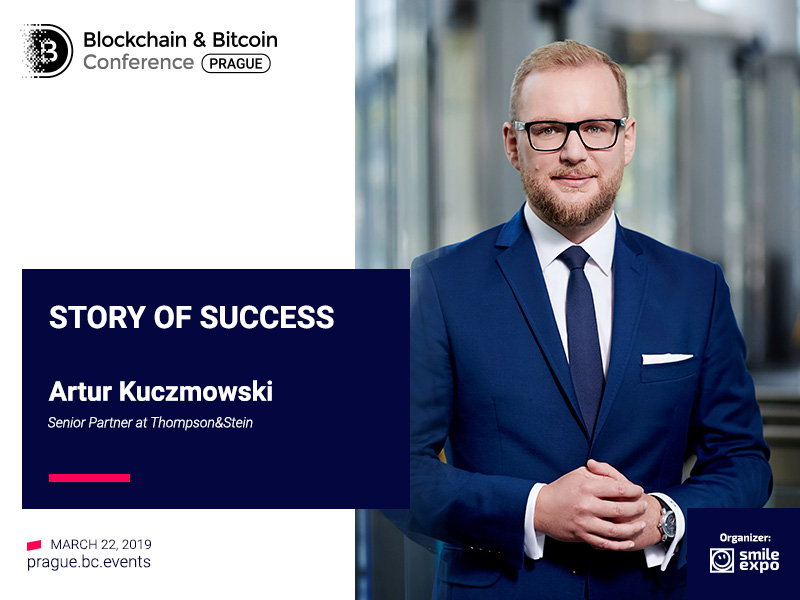 He has always been interested in law and technologies. He has discovered the potential of blockchain and has become one of the founders of the international legal advising company Thompson&Stein. Today, he helps clients with their crypto projects, he is the Senior Partner at Thompson&Stein – Artur Kuczmowski.
On March 22, Artur Kuczmowski will become a speaker at the Blockchain & Bitcoin Conference Prague where he will deliver a presentation "AML and KYC Best Practice for ICO and Crypto Exchanges."
We have talked with the expert about his interest in law and technologies, projects of Thompson&Stein and crypto consultations.
"New technologies have been attracting me since teenage years"
I have always wanted to run an international reliable business which is not limited to one specialization and one location. Thanks to the law sphere, I was given that chance. As a student, I was able to develop my knowledge in Poland, Mexico and Spain. The best thing about my job is the possibility of collaboration with people from all over the world. It is intellectually challenging and personally fulfilling.
At the same time, I have been interested in new technologies since I was a teenager. As a new technology fan, I saw the potential in Blockchain. In my opinion, it is one of the greatest inventions of modern times which has started to change our lives. I paid attention to lower cost, increased speed and transparency of all transactions which that technology offers.
"Becoming a manager of the international law firm was natural to me"
I am one of the Thompson&Stein founders. Managing international law firm was the natural next step in my career as a manager and international lawyer. It is always been a challenge for every lawyer to change from single man company to entrepreneur and manager.
I manage Thompson&Stein offices in Estonia, Malta and Poland. We have chosen Estonia and Malta because they are seen as the most crypto friendly countries. They have implemented legal regulation offering licences for business activities with virtual currencies. However, we are still looking for another good location for cryptocurrency-related business with low operating costs and partner-like attitude of the government.
"The number of crypto exchanges we work with increases"
At the company, I am also responsible for coordinating our Corporate Services Department in each of these countries and our international Blockchain specialists. I oversee operational processes of obtaining cryptocurrency exchange and wallet service provider licences. I also advise ICO and STO projects. Moreover, I am considered as a Thompson&Stein's representative when it comes to media and conferences.
Today, our success is the increasing number of large cryptocurrency stock exchanges we service. At present, we provide 50 process of cryptocurrency licences in Estonia and coordinate 30 ICO projects.
"I want to create a big European crypto business hub in Estonia"
While consulting companies integrating blockchain and crypto, there are several difficulties. First and foremost, young people who start their first crypto business. We have to explain to them the fundamental principles of the management and accounting. We also tell them that interest in Blockchain technology and cryptocurrency is not enough to achieve business success.
Another difficulty we face are the law regulations which do not keep up with the development of Blockchain technology. We have to notice that the international unitary regulation does not exist. Each authority has looked at various parts of the crypto world from mining to trading and assessed how they ought to be regulated.
In the future, we are thinking about big European hub in Estonia for cryptocurrency related businesses. We dream about campus modelled on university campuses, where technology companies will find their harbour and will develop themselves.
---
Learn more about law and blockchain from the expert at the conference!
Meet new speakers and key news of the conference