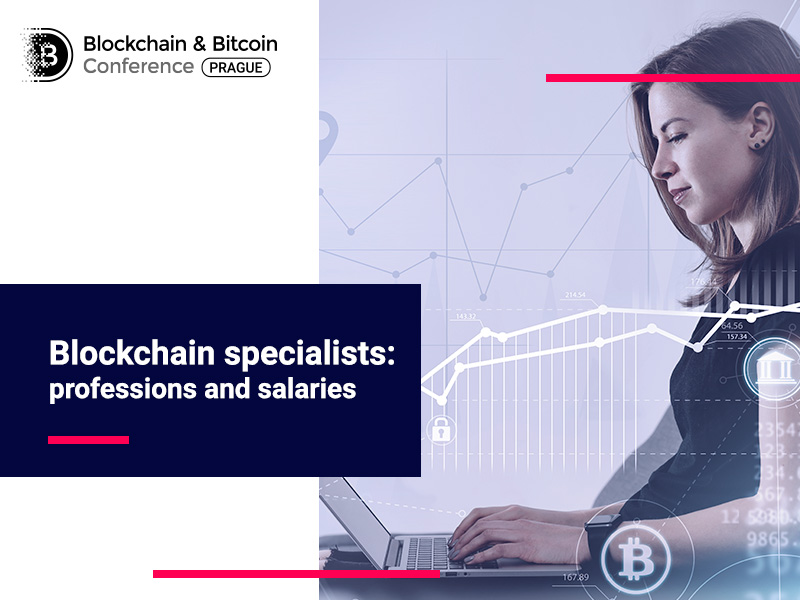 The blockchain technology not only advances different industries but also influences the labor market. The demand for blockchain specialists has grown, although they are not trained at higher education institutions.
Let's find out what blockchain experts are good at and how much money companies are ready to pay for their competency.
What blockchain professions exist?

Programmers and developers
The biggest demand in the blockchain industry is for IT specialists that know programming languages and are familiar with the technology development and design.
Tasks of blockchain developers:
analysis of design specifications;

testing of the technology;

development of cryptographic protocols;

coding of smart contracts.
Such blockchain experts are some of the highest-paid specialists.
Lawyers
Blockchain companies want to find competent lawyers that understand subtleties of the cryptocurrency regulation.
Tasks of crypto lawyers:
to consult and support ICO projects;

develop legal regulation for blockchain;

provide legal protection for crypto exchanges;

prevent crimes in the field of cryptocurrencies;

consult blockchain startups on legal issues.
Marketing specialists
To efficiently develop blockchain startups and promote products, PR specialists are required.
To increase recognition of a blockchain startup, crypto marketers:
create unique content;

promote the project in social media;

communicate with interested users;

attract investors and partners for the project;

represent the brand in the online and offline environment;

attract attention to the project during the ICO.
Financial experts
To ensure security of cryptocurrency assets and advance financial tools, companies need competent specialists that:
reduce costs;

improve the crediting system;

interact with banks;

raise funds;

analyze financial risks;

automate processes.
ICO analysts
A successful ICO campaign requires specialists that understand how the cryptocurrency market works, have experience in analytics, and economic background.
ICO analysts:
analyze investment attractiveness of the startup;

check data about projects;

compile rankings of ICO;

prepare analytical reports.
Where to train to be a blockchain specialist and find a job?

To become a specialist in the field of blockchain, one has to choose the activity area: promotion, legal or financial support of the project.
In addition to the basic knowledge of the field (which can be acquired at universities), it is important to be familiar with the blockchain technology and subtleties of its operation. You may find useful:
educational online courses;

attendance of conferences and lectures dedicated to blockchain;

studying of specialized resources;

communication with experienced industry experts.
Competent field-specific specialists in the field of blockchain usually have no problems with finding a job. Specialists are wanted at:
beginning blockchain startups;

large cryptocurrency corporations;

information resources about blockchain;

wide profile IT companies;

banks, crypto exchanges, and payment systems;

investment funds.
How much money do blockchain specialists earn?

Salary of blockchain experts varies depending on the activity area and size of the company.
Analyzing job offers on the US job search site Indeed, one can note that the average annual salary of software developers ranges from $85,000 to $110,000.
Managers of young blockchain startups can earn around $40,000 per year and lead managers of the largest corporations earn $125,000 per year.
Blockchain analysts annually make from $75,000 to $84,000 and marketing specialists make from $60,000 to $63,000 per year.
According to data from Cryptocurrency Jobs, in Europe frontend developers receive around $70,000 per year, and salary of backend developers is on average $85,000 per year.
Designers of blockchain apps receive around $74,000 per year, and community managers make around $57,000. Salary of office managers at blockchain companies ranges from $24,000 to $63,000 per year.
---
Crypto specialists will discuss blockchain and share real case studies at Blockchain & Bitcoin Conference Prague.
Meet new speakers and key news of the conference