Best cryptocurrencies for mining in 2019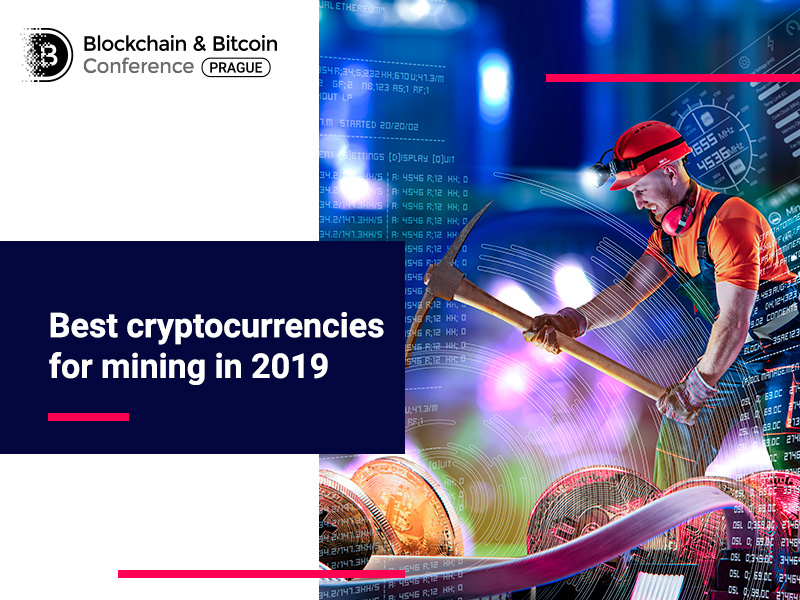 The research conducted by Diar shows that Bitcoin miners only received $4.7 billion of revenue in 2018, which is by $1.7 billion more as compared to 2017. At the same time, analysts note that mining expenditures have increased meaning that one has to choose the cryptocurrency for mining more thoroughly not to go into the red.
Prospects of mining in 2019
In 2018, cryptocurrencies have lost their value significantly. Some of them have decreased up to 70% at the end of the year. However, mining has not become less popular, and companies that produce special hardware are releasing new, more powerful ASIC models. For example, Bitmain presented Antminer X3 for mining cryptocurrencies based on the PoW algorithm CryptoNight (Monero is of the same type) at the beginning of the year.
Thanks to the growth of the computing capacity and electricity prices, mining is not getting more affordable, and the procedure is getting more complicated. At the same time, the mining market has become more comprehensible and stable. In 2018-2019, making a 700–1000% income per year is hardly possible, but mining is still bringing high revenue when the approach is reasonable and calculations – accurate.
Now making real profit takes more time. Whereas 2 years ago mining hardware paid back within 2 months, now this period might reach 1 year. Taking into account these terms, one should take an attentive approach to the choice of the cryptocurrency for mining. Your choice of altcoins will influence the revenue and payback period.
Mining profitability depends on the following factors:
cryptocurrency price (key factor that influences the amount of income);

reward for the mined block (the more coins a block contains, the more it pays);

block time in the cryptocurrency network (high frequency means that the profit will be higher);

hashrate (complexity) of the cryptocurrency network.
The luck of the miner plays no less important role in this list, as his task is to guess the solution of the cryptocurrency block using computing capacity. One should choose a cryptocurrency for mining relying on the main profitability indexes and technical capabilities.
Best cryptocurrencies for mining in 2019
The main principle of any investment – do not to put all your eggs in one basket – is also true for the cryptocurrency market. Those who do not want to lose all investments should focus on several cryptocurrencies rather than one.
For example, if Bitcoin price goes down, mining gets unprofitable or even lossmaking. Taking into account all profitability ratios of mining, now it is more lucrative to mine Bitcoin Cash than Bitcoin. However, the situation may change with the growth of the cryptocurrency price meaning that it is profitable to mine not only top cryptocurrencies but also those that have a big potential. So which cryptocurrencies are expected to be promising in 2019?
Monero. Currently, one of the most popular cryptocurrencies listed in top 20 ones with the biggest cap that reaches $890 million with the exchange rate of $53. No one can track transactions with Monero, which is its key advantage. In other words, this cryptocurrency is completely anonymous (one of the main trends of 2019). The system is hack proof.
Monero emission is limitless. As soon as 18.4 million e-units are produced, miners will be able to get 0.6 coins for each block.
Verge. A veteran that entered the cryptocurrency market as early as 2014 revived in 2016. The cryptocurrency went through a hard fork that surprisingly led to its established market position. Verge is mostly known for anonymity and safety, comfortable mining based on a PoW protocol using five algorithms.
It works on TOR, i2P, and Wraith Protocol technologies that guarantee multilayer data encryption. Verge costs only $0.008 but its market cap is pretty high: $123 million.
Dash. A Bitcoin fork that grew popular on the market due to anonymity and a unique two-level system. Its cap is estimated at $802.4 million with the price of $94. Within one year and a half of its existence, Dash has moved to top 10 cryptocurrencies and is still holding its positions.
Dash uses several cryptographic encryption algorithms at once. No fantastic computational capacities are needed to mine it. Dash is mostly used in cashless payments and bank sphere.
Results
Bitcoin has been rising at a breakneck speed since 2009: from $0.001 to $20,000. It perfectly demonstrates the lucrative prospects from investments in promising cryptocurrencies, including mining.
Currently, Bitcoin is rightfully considered to be a veteran that steadily holds the top position. For example, Professor of Economics at Yale University Aleh Tsyvinski advises to put 6% Bitcoin assets in an investment wallet.
It is altcoins that can become the most valuable asset: they embrace the market step by step and attract both major players and individual miners. When choosing a cryptocurrency to mine, one should mind the overall market analysis and expert forecasts as well as calculate possible revenues using a special calculator.
Meet new speakers and key news of the conference