Market of blockchain apps in 2019. Report from Aleks Bozhinov, Crowdholding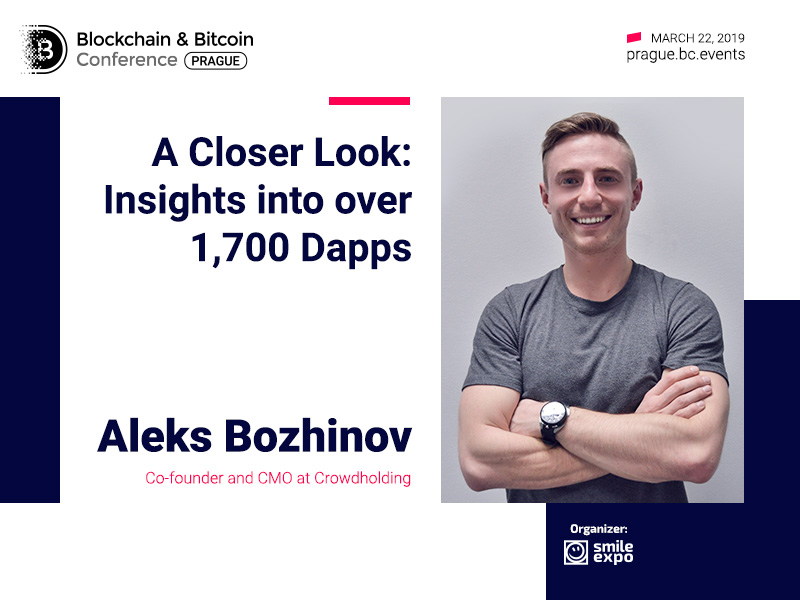 What does the modern market of decentralized apps look like? On March 22, speaker of Blockchain & Bitcoin Conference Prague, co-founder of Crowdholding marketing firm Aleks Bozhinov will highlight the issue.
Presentation topic: A Closer Look: Insights into over 1,700 Dapps.
Having 8 years of experience in digital marketing, the speaker will share how to analyze blockchain apps by important metrics, from volume to transactions. The presentation aims to help the audience understand the core idea of blockchain solutions and teach how to find the most useful products.
Aleks Bozhinov is an entrepreneur, business mentor, marketer, and blockchain enthusiast. He is known as a Chief Marketing Officer at Crowdholding firm, where investors and the crypto community discuss and solve business tasks. For the last two years, Aleks has been into capabilities of blockchain. The speaker believes that the technology can change the social pattern and the system of wealth distribution.
In 2008, Aleks started working for the Czech division of Google as a business mentor. He communicates with the business community, organizes workshops and presentations, and shares accumulated knowledge.
Besides, Aleks is a marketing and business development consultant for a number of ICO projects and blockchain startups.
---
Meet new speakers and key news of the conference