Websites for immediate bitcoin purchase using credit or debit card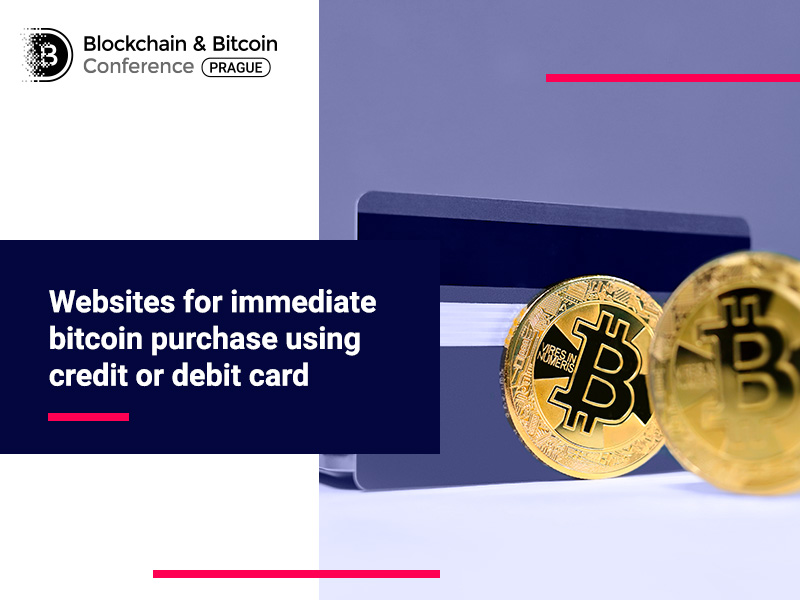 There are various ways to buy bitcoins: via exchange offices, exchanges, mobile apps, or even asking friends. However, such manipulations are frequently either long and unprofitable or unreliable.
Let's examine a list of websites where this process does not require lots of time and funds (save for those spent on purchases), while cryptocurrencies can be bought using a bank card.
Coinmama
The Coinmama service is available in 226 countries. By the way, everything is pretty fast here: you should just create an account. Disadvantage: any transaction is conducted with a 6% fee, which is higher than in the majority of services. You are allowed to buy bitcoins amounting to no more than $5000 per day.
Coinbase
Coinbase's registration is longer than Coinmama's, but it is simple. It has the lowest fee for each transaction among European brokers – 3%. This service is available for citizens from 30 countries: the USA, the UK, Canada, Australia, Singapore, and European countries except for Germany.
Cex.io
Cex.io operates in Europe, the USA, and South America. It offers immediate bitcoin payments using a credit card. A fee for money transfers is 3.5% plus 25 US cents. Besides, a fee of trading operations ranges from 0.1% to 0.2%.
Bitstamp
Newcomers can face some difficulties when signing up with Bitstamp: its authorization process is not quite easy. At the same time, the company states that it has never been hacked since its foundation in 2011. A transaction fee depends on the sum: the more money, the higher fee.
Paxful
Bitcoins on Paxful are more expensive than on exchanges, but people choose this service because of its usability. It is trustworthy, as all transactions are protected and safe.
BitPanda
BitPanda has a disadvantage: it does not show a fee at once. But its fee does not exceed 4% of the sum. This broker offers services all over the world and supports a lot of payment methods.
Indacoin
Indacoin has a simple registration form. Filling it out, one can instantly buy bitcoins. A fee is 4% or $2, depending on what is more profitable for the company.
24/7 Exchange
24/7 Exchange is able to deal with bank cards worldwide. Transactions of less than $300 does not require identity authentication. A fee is specified immediately. With the service being launched recently, it has not yet gained a popularity.
Before addressing any service, do not forget to create a cryptocurrency wallet because all the money should be stored somewhere. Loot at a feedback about exchanges and brokers in order to decide where to buy bitcoins.
Meet new speakers and key news of the conference