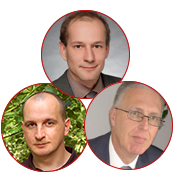 Media entrepreneur Pavel Niedoba (owner of SimpleCoin), Henri de Jong (Head of Business Development Digital Currency NV) and Meinhard Benn (founder of SatoshiPay) will deliver reports at specialized forum on cryptocurrency - Bitcoin Conference Prague.
SimpleCoin, Pavel Niedoba will represent, is the oldest Bitcoin exchange in Czech Republic. With business history almost 2 years log the company has encountered many attempts to launder money using bitcoins. The ability to fight such crimes is essential for Bitcoin business. And understanding whole life-cycle of dirty money is key knowledge. SimpleCoin runs business in 3 European countries and had to deal with bank fraud departments, police and procurators.
In his speech, Pavel Niedoba will describe several techniques of stealing money, basic rules to track bitcoins from blockchain transactions and ways how to defend yourself when buying bitcoins.
Henri de Jong is the driving force behind identifying sales leads and pitching solutions to prospects in Digital Currency N.V. He is valued for his skills in developing and maintaining effective and professional working relationships with all company partners.
Meinhard Benn founded SatoshiPay - a Bitcoin payment solution provider. The Company is aiming to enable transparent Bitcoin integration in all spheres of life. Meinhard is open source developer, social entrepreneur and avid shoestring traveler with 50 countries under his belt, and he has experienced the need for a global and decentralized currency first-hand. He already experimented with different alternative monetary systems for years when Bitcoin crossed his path in 2011. As miner, trader, developer and speaker he pushes the cryptocurrency ecosystem forward ever since.
At Bitcoin Conference Prague to be held on 14 May you will have a chance to get detailed information about speakers, communicate with them personally and discuss business opportunities. As organizer of the event, Smile Expo is working hard to make another professional conference dedicated to cryptocurrency even better. In addition to beautiful venue, all conference attendees will enjoy reports by the most interesting speakers with unique experience, and the list of speakers will be replenished and updated.
Stay tuned!
To become Speaker of Bitcoin Conference Prague, complete the form on event website.
More details on bitcoinconf.eu.
Meet new speakers and key news of the conference