New speakers of Bitcoin Conference Prague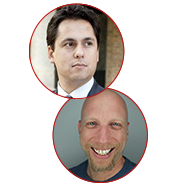 Unique event Bitcoin Conference Prague will be held on May 14, 2015 in the heart of Europe – in the capital of the beautiful Czech Republic. The conference will bring together the brightest industry representatives, renowned experts and gurus of cryptocurrency market, lawyers, and experts from all over Europe willing to share their experiences and present the best practices in working with Bitcoin.
The speakers of the event will be:
Section "Bitcoin-2015: what to expect and what to be afraid of"
Justin W. Newton, Bio - Founder and CEO, Netki
As CEO of NetKi, Justin has been building the company's first product, Wallet Name Service, which allows users to easily link complicated wallet addresses to an easy to share Wallet Name. Netki gives partner companies the option to auto-register users' under their own custom name space by utilizing hierarchical naming.
Prior to Netki, Justin was a leader in creating the technical, regulatory and product underpinnings of the Internet that allowed it to grow. He has created over $2 billion in new revenue and savings at various start-ups, including AboveNet, NetZero, Demand Media and Blackline Systems. Justin co-founded the Internet Service Provider's Consortium, and served on the Advisory Council for the American Registry for Internet Numbers (ARIN). Justin currently serves on the Board of Directors for ADRA Match Software and Vision Fleet's Advisory Board.
Title of report - "From the Internet to Bitcoin: Lessons learned on how to gain mass market adoption of a truly transformational technology"
About report:
With over twenty years experience in building Internet platforms, products and companies, Justin draws real parallels between the early days of the commercialization and growth of the Internet, and current day Bitcoin. What lessons can we learn for the industry, and for our companies as we move Bitcoin from early adopters to more mainstream, mass market uses?
Section "Blockchain – future prospects"
Pavlo Tanasyuk, founder of Block Verify an anti-counterfeit solution using blockchain technology
Pavlo is also a co-founder of SpaceBIT the first decentralized space company. Pavlo graduated with a degree in Analysis, Design and Management of Information Systems from the LSE and has a MPhil in Technology Policy from Cambridge University. Pavlo founded a number of successful financial startups. He is currently the CEO of Monexy, a company that was co-founded and leaded by Pavlo, which has processed billions in transactions in Eastern Europe. Pavlo is now active in developing new blockchain applications and is a firm believer of its potential outside of financial world as well.
About report:
Pavlo will be discussing some potential applications of the blockchain outside of financial transactions. How the blockchain can provide trust to supply chain management in many different sectors. The current situation in serialization of products, track and trace solutions and how it can be improved with the potential of blockchain technology. Pavlo will speak about potential blockchain applications with automatic inventory management and what it could do for efficiency of businesses.
Smile Expo as organizer of Bitcoin Conference Prague is working hard to make another professional conference dedicated to cryptocurrency even better. In addition to beautiful venue, all the guests will enjoy unique party for the entire Bitcoin community, which will last till the very morning.
For more details, please visit bitcoinconf.eu.
Meet new speakers and key news of the conference