Digital money exchange: top 5 crypto exchangers in 2019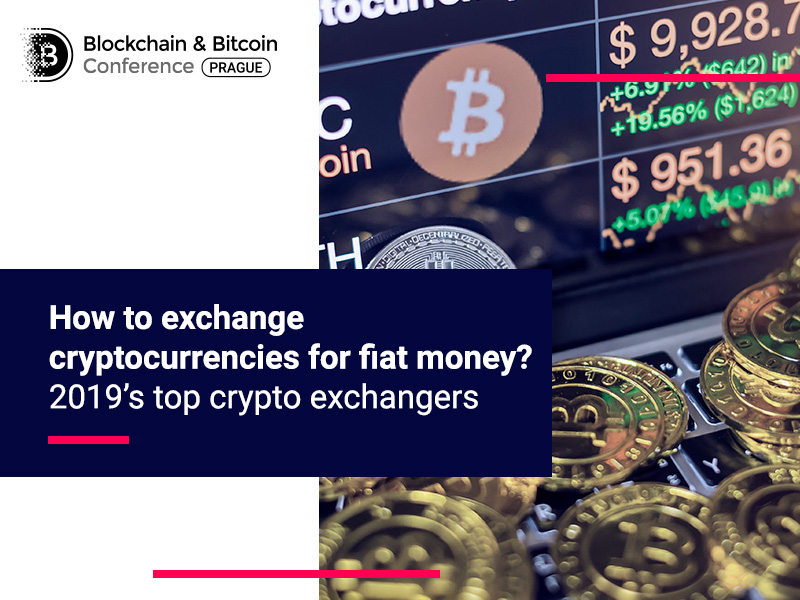 There are various ways to exchange digital coins from your cryptocurrency wallet for national currency: on Р2P crypto exchanges and centralized platforms, or using cryptocurrency exchangers.
Let's figure out how crypto exchangers function, what should be taken into account when choosing services, and which of them will be popular in 2019.
What are cryptocurrency exchangers?
Crypto exchangers mean services allowing users to obtain fiat money in return of cryptocurrencies and exchange digital money among themselves or for their local currency.
Currently, there are two types of cryptocurrency exchange services: offline and online ones. Working with offline exchangers, customers can use cash. They should just submit an application on the special website: specifying their city, the exchange sum, involved currencies, and their crypto wallet. Afterwards, clients are able to use an ATM at the chosen address.
Online exchangers are more convenient while dealing with digital coins, as this operation is conducted much faster.
How do crypto exchangers work?
Now, it is quite easy to use a cryptocurrency exchanger: you should just make sure that the service supports the required coin and file an application for exchange.
However, you should discover the operating mode of the crypto exchanger before paying for the application.
Manual exchanger
Users of such an exchanger should enter their data during each transaction. Information is checked manually, and a chargeback is conducted in the same manner. Generally, the completion of operation on the manual exchanger requires several days.
Semi-automatic exchanger
User data are verified by the operator manually, but the payment is made by the system. Transactions in semi-automatic exchangers take less than two hours. Waiting period depends on a loading level of the crypto exchange.
Automatic exchanger
An automatic exchanger offers the fastest way to receive a desired currency. With the system performing user data verification and chargeback on its own, a transaction is completed in several seconds.
How to choose a crypto exchanger?
Today, the market offers a lot of cryptocurrency exchange services, but some of them are fraudulent. A crypto exchanger is honest if it corresponds with the following factors:
minimum period of operation: a year;

positive user feedback;

twenty-four-hour and available support;

twenty-four-hour operation of the exchanger;

ample funds (from $100,000);

automatic or semi-automatic operating mode.
Top 5 crypto exchange services
365cash.co
Launched in 2015, the 365cash.co service helps users to carry out Р2Р transfers. To exchange currencies, you should not necessarily register. However, the service provides registered and regular customers with a discount.
The exchanger guarantees several major cryptocurrencies for exchange and the available support service.
NewLine.Online
The NewLine.Online platform works in a semi-automatic mode twenty-four-seven. The service offers prompt and safe exchange of BTC, LTC, ETH, DASH, XMR, XRP, and ZEC.
As a rule, an exchange operation lasts less than three hours. Besides, the service offers a personal delivery of cash to citizens of Moscow and St. Petersburg.
The exchanger allows registered users to earn together with NewLine.Online using the portal's affiliate program.
Changer
Registered in the UK, Changer has been operating for eight years. Now, the service allows to exchange BTC, LTC, ETH, BCH, DASH, DOGE, ETC, and ZEC.
To turn cryptocurrency into fiat money, you can use one of the three options: Perfect Money, Payeer, and AdvCash.
Registration is non-obligatory, but authorized clients get special bonuses.
24paybank
The service was launched in 2015 and, according to the resource, performed 146,900 exchanges.
24paybank helps to exchange a great deal of various cryptocurrencies. Moreover, the service offers several ways to obtain fiat money, including Perfect Money, Payeer, VISA, MaterCard, AdvCash, and Russia's major banks.
ALFAcashier
ALFAcashier is the US-based automatic exchanger launched in 2012. The service features 15 largest cryptocurrencies with a minimum fee for users from 150 countries.
The crypto exchanger works round the clock and conducts all financial transactions in a minute. Currently, the portal has about 195,000 registered users able to participate in its affiliate program.
Conclusion
Due to the increasing number of cryptocurrencies, more and more services offer the exchange of digital coins for fiat money. While selecting an exchanger, it is important to pay attention to its operating mode and user feedback in order to be sure of service's honesty and reliability.
---
Blockchain experts will discuss cryptocurrencies at Blockchain & Bitcoin Conference Prague.
Meet new speakers and key news of the conference