Prague is a paradise for cryptocurrency investors - Alexandru Popa, CA Technologies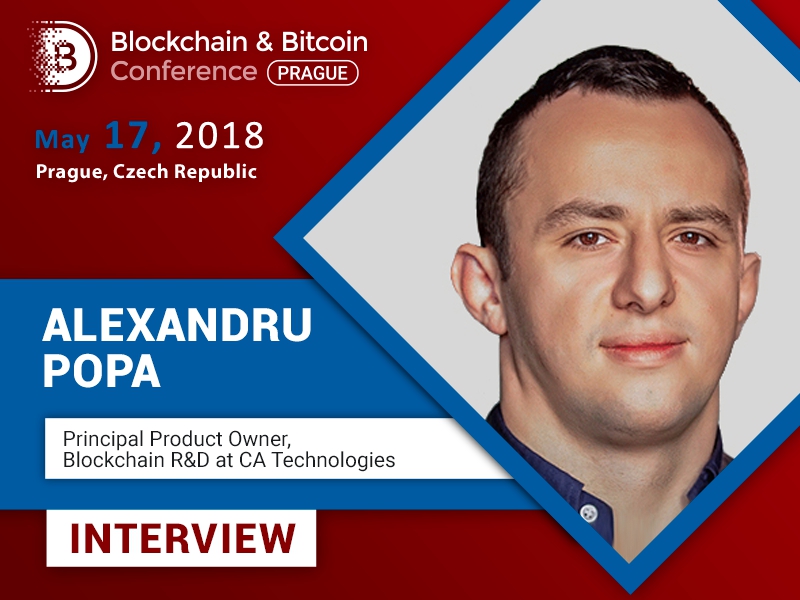 "Digital and physical reality are merging into a single integrated modern way of living," believes Alexandru Popa, the principal product owner, advancing Blockchain and DLT at CA Technologies. Alexandru Popa is the technology and digital mobile solutions expert. He will be a speaker at the Blockchain & Bitcoin Conference Prague on May 17, talking about "How digital identification management systems could be transformed with blockchain technology". In the interview, Alexandru talked about CA Technologies' solutions, Czech blockchain community and Digital ID.
Interviewer: Blockchain & Bitcoin Conference Prague (BCP)
Speaker: Alexandru Popa, principal product owner at CA Technologies (AP)
BCP: Hello, Alexandru! You promote blockchain and decentralized technologies at CA Technologies. Tell us please how you came into this area. What inspired you to learn blockchain, what information sources did you use?
AP: I used to deliver innovative Enterprise Mobility digital solutions but once I got the call to join Blockchain revolution I was on it! I knew the potential of this awesome technology for felling the missing trust layer of the internet-that can change everything. I was instantly hooked to be part of this change! It is a continues learning curve as the technology and its implementations are evolving with lightning speed but as a base of information in the field I would recommend for everyone: Blockchain for Dummies- IBM edition and Blockchain Revolution: How the Technology Behind Bitcoin Is Changing Money, Business, and the World. Also, there are plenty of resources online but to get started with, this tow books should provide a good understanding into blockchain and DLT.
---
BCP: What part of products CA Technologies develops goes to blockchain?
AP: There are 4 areas that go hand in hand with CA's portfolio where we are going to bring value by adding blockchain in the picture: Distributed Identity and Provable Claims Management, Blockchain and SoR data reconciliation, DevOps (bring development process of decentralized application on par with current development standards) and Smart Contracts Security.
---
BCP: You are an organizer of a blockchain meetup in Prague. Describe please Prague-based blockchain community: how large is it? Are there any inner associations? Do its participants prepare projects in the Czech Republic or also under other jurisdictions?
AP: Prague-based blockchain community is large when it comes to cryptocurrency. There is still lot of hype in this space and Prague has become a paradise for cryptocurrency investors and miners due to low/no regulations in Czechia. I can't say the same when it comes to blockchain for business community, but things are evolving very fast and more and more blockchain startups are emerging. There are also couple of big companies that are establishing blockchain dev teams based in Prague and that's a great! The community is growing fast, and collaboration is fostering.
---
BCP: Your presentation at Blockchain & Bitcoin Conference Prague will be dedicated to digital identification. What are current application areas of Digital ID?
AP: As many of us experience every day, the world is undergoing a global digital transformation where digital and physical reality are merging into a single integrated modern way of living. This new world needs a new model for digital identity, one that enhances individual privacy and security across the physical and digital world. The Blockchain will secure online identity and users will regain back the control.
---
BCP: In brief, what issues will you cover and for who?
AP: It will cover topic that are beneficial to all categories of audience: developers, business representatives, Blockchain enthusiasts.
---
Meet new speakers and key news of the conference