Aaron Koenig, Pavol Luptak and Max Tertinegg will speak at Bitcoin Conference Prague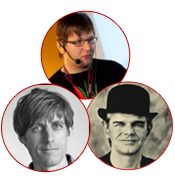 Aaron Koening, media entrepreneur, Pavol Luptak, security consultant, owner and director of Nethemba s.r.o, and Max Tertinegg, managing director of Coinfinity,will speak at specialized forum on cryptocurrency - Bitcoin Conference Prague.
Aaron Koenig - Aaron is the managing director of Bitfilm, a film production company specialised on commercial films, and the co-founder and CEO of AMIKO, a Bitcoin 2.0 start-up that offers loyalty programmes based on Bitcoin technology. His book on Bitcoin from an Austrian Economy perspective will be published by Finanzbuchverlag Berlin this spring.
Pavol Luptak has regular presentations at various worldwide security conferences (in Netherlands, Luxembourg, Berlin, Warsaw, Krakow, Prague). In the past, he demonstrated vulnerabilities in the public transport SMS tickets in all major cities in Europe, together with his colleague Norbert Szetei he practically demonstrated vulnerabilities in Mifare Classic RFID cards. He has 14 years experience in IT security, penetration testing and security auditing including social engineering and digital forensic analysis.
Max Tertinegg is information designer and member of Bitcoin community since 2011. He has developed a number of projects related to cryptocurrency, and knows almost everything about Bitcoin. In addition, Max is a real fan of block chain technologies and Bitcoin 2.0 platforms.
At Bitcoin Conference Prague speakers will focus on issues of interest to representatives of different business sectors and related to cryptocurrency. All guests will have an opportunity to clearly understand nuances and complexities of still evolving financial sector.
At Bitcoin Conference Prague to be held on 14 May, you will have a chance to get to know detailed information about speakers, talk to them personally and discuss business opportunities. Smile Expo as organizer of the event is working hard to make another professional conference dedicated cryptocurrency even better. In addition to beautiful venue, all conference attendees will enjoy reports by the most interesting speakers with unique experience; the list of speakers will be continually replenished.
Follow our updates!
To become speaker of Bitcoin Conference Prague, please fill in the form on event website.
For more information, please visit bitcoinconf.eu.
Meet new speakers and key news of the conference