Adam Vasari and Lorien Gamaroff have become speakers of Bitcoin Conference Prague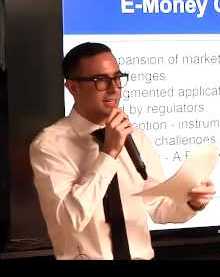 Adam Vasari, a member of the Board and co-director of Exchange, Regulation & Exchanges at the British Association for the digital currency, as well as Lorien Gamaroff, a founder and CEO of Bankymoon will speak at Bitcoin Conference Prague, the most expected event in the field of cryptocurrencies.
Adam is a qualified lawyer and director of Diacle Company, which is involved in international strategy development, licensing and compliance with the law for companies working with digital currencies and block chains. He also speaks regularly at international events related to cryptocurrencies.
Our second speaker is Lorien Gamaroff who represents Bankymoon Company operating in the field of Bitcoin payments and cryptocurrency integration. For more than 20 years, Bankymoon's team has been engaged in software development for such sectors as banking, media, advertising and Smart grid. Lorien drew public attention all over the world by the development of the first of its kind smart metering system using block chains, which allows making payments for utilities using Bitcoin. Gamaroff believes that this technology will change the payments in the public sector and make Bitcoin cryptocurrency popular. Lorien Gamaroff speaks at conferences and seminars around the world, where he shares his experiences and ideas. In addition, he holds consultations on the value and usefulness of cryptocurrencies at the government level.
At Bitcoin Conference Prague, the speakers will talk about new technological solutions, security and privacy issues, mobile solutions. They will share their practical cases and specific examples that demonstrate operation of Bitcoin in the best possible way. You will learn how to use cryptocurrencies in your own business and earn more than others.
You can become a speaker of Bitcoin Conference Prague by completing a form on the event website.
For more information visit bitcoinconf.eu
Meet new speakers and key news of the conference