Top 3 Best Places to Buy Bitcoin in 2019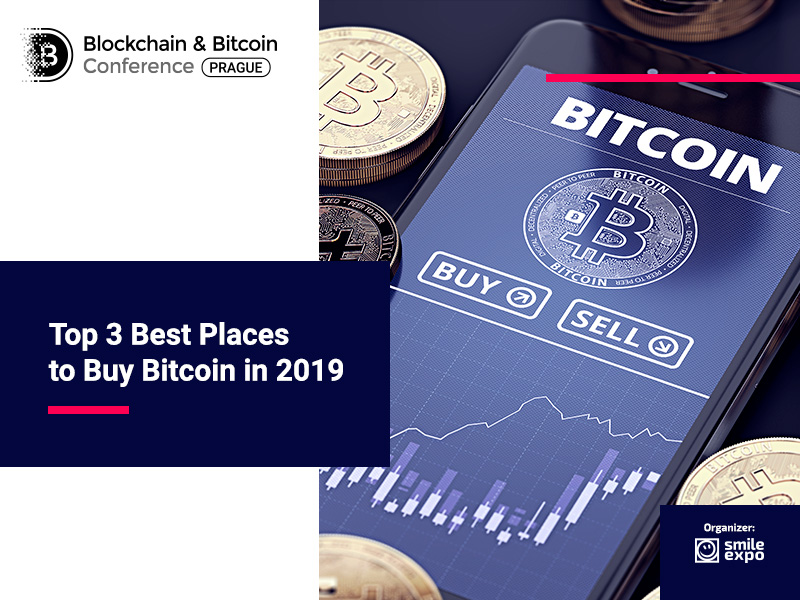 The expert community has two contrary opinions regarding further destiny of bitcoin. Some believe that the cryptocurrency age has come to a full logical stop. Others think that the rate of Bitcoin will get better by the end of 2019 and will begin to grow again by 2021.
Anyway, bitcoin is still the most profitable and popular cryptocurrency in 2019. This article will tell you where to buy bitcoin in 2019 most advantageously.
How to determine the best places to buy bitcoin
To find a successful cryptocurrency exchange, you should pay attention to 3 aspects of its operation: a level of liquidity, a fee, and a transparency of its transactions.
Liquidity
The first and the most significant thing to be taken into account while choosing a cryptocurrency exchange is the liquidity of exchange. Liquidity is the capability of exchange to sell bitcoins, without affecting the price.
The higher exchange liquidity, the more customers. To check the liquidity of any exchange, you should examine data of several best crypto exchangers. Then you should check the amount of bitcoins sold within the past 30 days. bigger volume of trading, the higher exchange liquidity.
Fees
Almost all crypto exchanges throughout the world charge a fee for transactions to a greater or lesser degree. However, it is worth mentioning that cryptocurrency exchanges do not withdraw fees at fixed rates. Instead of this, they impose payments in percent. This trend sometimes increase the bitcoin price during a certain time.
Transparency
Currently, there are a lot of exchanges conducting hidden transactions with an unclear procedure of bitcoin sales and purchases. Be afraid of them. What matters for a cryptocurrency exchange are the availability of exchange rates as well as the accessibility of information about customers and anti-money laundering methods. Honest cryptocurrency exchanges valuing their reputation try to earn customer loyalty using security and transparency of transactions.
Top 3 best places to buy bitcoin in 2019
There are many other criteria for choosing the best bitcoin exchanges in 2019. Nevertheless, based on users' feedback and above-mentioned criteria, the best cryptocurrency exchanges are Coinbase, Coinmama, and Changelly. Let's consider them below.
Coinbase
Coinbase was launched in 2012 in the USA with the HQ in San Francisco. The platform offers cryptocurrency trading in 32 countries. Since its establishment, Coinbase has served more than 10 million clients. Besides, Coinbase is one of the few platforms accepting credit cards.
The Coinbase website features a user-friendly interface. The home page contains all main menu bars allowing to enter the trading space and to choose other products offered by the company.
98% of users' all funds are stored on offline hardware wallets. It allows to protect money from fraud or loss. The important information stored on company's servers is also unavailable in the online mode. Data are encrypted by the AES-256 algorithm. Coinbase also has a two-factor authorization.
Coinbase's fee can vary according to a cash-in and withdrawal method chosen by users.
In the winter of 2018, Coinbase conducted the largest ever cryptocurrency transfer: over $5 billion in different cryptocurrencies were transferred on December 19. According to the report, the transfer included about 25% of Litecoin (LTC), 8% of Ethereum (ETH), and 5% of Bitcoin (BTC) worldwide.
Coinmama
Coinmama joined the market in 2013. The project belongs to a subsidiary of New Bit Ventures LTD – NBV International s.r.o. The company is registered as a service for money operations and is certified.
This exchange is appropriate for those desiring to quickly and reliably buy Bitcoin or Ethereum using a bank payment or a credit card. Coinmama was the first to offer such an option, attracting a lot of interested customers and becoming one of the most popular exchanges of this segment. Besides, its website is available almost everywhere. In comparison, Coinbase is available only in 33 countries.
Some of such websites offer cryptocurrency purchases and sales, but Coinmama.com is lack of the sale option. It allows to pay in dollars or euros for two key types of cryptocurrency (Bitcoin and Ethereum) and to receive them on your personal online wallet.
Coinmama's fee is above the average:
6.15% is added to the price of coins offered on the website;

5.65% is charged for operations with credit and debit cards.
Moreover, take into account that a bank can impose its own service fee.
To provide protection from hacker attacks, Coinmama uses Comodo and TrustGuard technologies, namely the 256-bit SSL encryption of pages containing users' personal information. At the same time, the website does not have a two-factor authorization.
Changelly
Changelly, a service for instant cryptocurrency exchange, was launched in 2015 by a team of the world-renowned pool called MinerGate. Service's HQ is located in Prague. You can contact the technical support by phone or in the feedback section on the website.
Changelly is integrated with the most popular exchanges: Bittrex, Poloniex, and HitBTC. The platform selects the best possible rate on these exchanges and places bets on what is profitable for users who want to, for instance, convert Bitcoin into Ethereum. Users do not have to look for the best and most beneficial exchange offer, register, and waste lots of time. Changelly cooperates with Coinmarketcap, Coinpayments, Freewallet, Jaxx Wallet, as well as many other websites and wallets.
The service charges a 0.5% fee of the total sum. There is also a fee specified in the cryptocurrency system.
For safety reasons, the service has a two-factor authorization when entering an account: users should put in their code while entering their personal account and transferring funds. Users can install the system on their own or refuse this option at any time.
---
Discover more about the ways to choose the best place where to buy bitcoin on Blockchain & Bitcoin Conference Prague.
Meet new speakers and key news of the conference