Women in bitcoin industry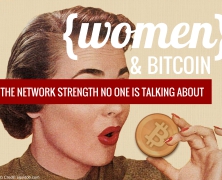 Bitcoin community is mostly represented by men: developers and entrepreneurs. But it does not mean that women don't take part in crypto-industry.
Statistics of previous years describes an average user as around 32-year-old man, anarcho-capitalist and atheist, who has a permanent job. These people also lead a healthy way of life. In order to redress injustice, we will name 15 representatives of the gentle sex, famous in crypto-industry.
Blythe Masters
Economist, works in the banking sector. Currently, she is the CEO at Digital Asset Holdings, developing Blockchain for financial enterprises, including banks.
Perianne Boring
Operates a famous blog Boring Bitcoin Report. Deals with strengthening positions of digital currencies and assets, heads The Chamber of Digital Commerce, collaborating with regulators.
Lisa Cheng
Manager of communication department in cryptocurrency organization Ethereum. Head of advice agency VANBEX, specializing in digital currencies, blockchain and decentralized implementations.
Elizabeth Rossiello
Founder of BitPesa startup, whose activities are focused on creating payment infrastructure in Africa. The company allows making fast bitcoin transactions, and money from bitcoin transactions is transferred to mobile phone accounts.
Emily Spaven
Former employee of Google, currently is an editor in Tech City News. Focuses mainly on bitcoin and blockchain.
Marina Gureva
Striving to develop and popularize blockchain, Marina has become a co-founder of CyberFund project.
Ola Doudin
Creative personality, engineer and head of Dubai-based bitcoin exchange BitOasis.
Tatyana Moroz
Employee at Bitcoin Magazine, who amazed everyone with her musical performances devoted to peace, love and bitcoin, founded TatianaCoin.
Victoria van Eyk
Victoria is keen on any details related to cryptocurrency. She is a co-founder of Bitcoin Strategy Group, and a vice president at ChangeTip.
Paige Freeman
Vice president at BITNET, which allows managing transactions and facilitates the expansion of cryptocurrency payment options. Founded the project Women In Bitcoin.
Fereshteh Forough
Thanks to her bitcoin is developing in Afghanistan. Head of Code to Inspire, which teaches women to code, and founder of the project Women's Annex.
Joyce Kim
Executive Director at Stellar, an open platform for creating financial solutions based on distributed systems. A Director's Fellow at the MIT Media Lab.
Connie Gallippi
Executive Director at BitGive Foundation that specializes in using bitcoin in medicine and environmental protection.
Elizabeth Stark
Innovation specialist, founder of StartBitcoin.org. The company was created to promote cryptocurrencies and blockchain.
Rhian Lewis
Leading developer of digital currency calculator CountMyCrypto. The company is also engaged in monitoring altcoins. Founder of the project London Bitcoin Women.
That's not the full list of talented women in the industry, and we hope that their number will be increasing.
Meet new speakers and key news of the conference