Blockchain development in 2019: expert opinions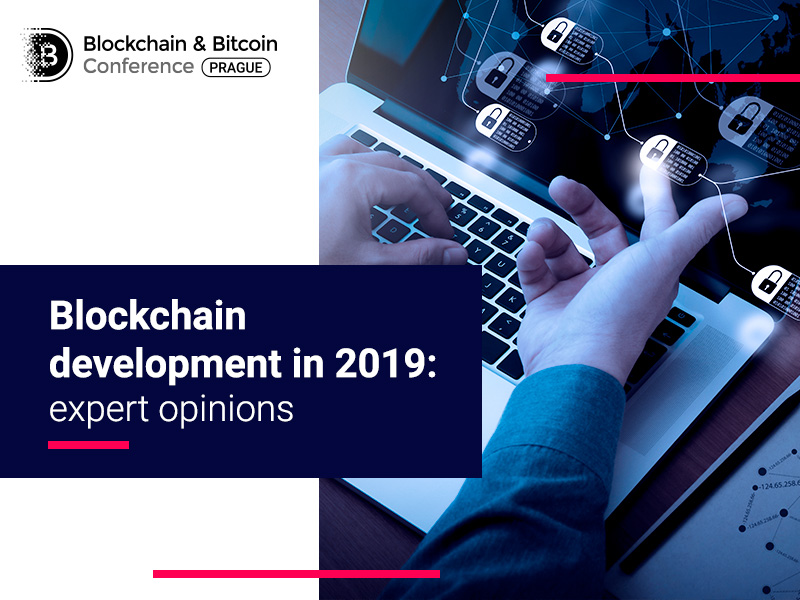 In 2018, top cryptocurrencies, including Bitcoin based on blockchain technology, fell in price by 80%. Despite this, industry experts from companies utilizing distributed ledger technology give positive forecasts for its development in 2019.
Blockchain and insurance in 2019
According to DataArt, blockchain will be used in 2019 to implement various innovative solutions. It will significantly expand the concept of technology's original purpose. For example, the insurance sector will widely apply smart contracts. Besides, blockchain will be combined with machine learning technology, allowing to reduce faults and standing time in business processes.
Distributed ledger technology in financial sector
The financial services market will also integrate blockchain in order to introduce new solutions relating to reporting and credits. Blockchain-based data management systems will become more popular: user identification, development of libraries for smart contracts, and information transfer.
In 2018, major companies invested in blockchain in order to change inefficient business processes. This trend will continue to exist in 2019. Such a conclusion was made by DataArt specialists after analyzing actions of industry leaders for the past year.
Growth of investments in blockchain
IDC analysts assert that investments in blockchain will increase from $400 million in 2018 to $3.5 billion by the end of 2022. This forecast is referred to European countries and investments in blockchain development only (excluding cryptocurrency turnover).
Moreover, the average rate of investing in blockchain within Europe will reach 80.2% from 2017 to 2022. The majority of investments would expectedly focus on the financial sector, as this industry was a leader in the amount of blockchain investments in 2018: $173 million, representing 42% of the total volume of contributions.
Global expenditures for blockchain will probably grow up to $11.7 billion. The USA will keep leading in terms of investments: 36% of all financing. At the same time, Europe, China, and Asia will make an important contribution to the technology development.
Industry experts about blockchain development in 2019
In late 2018, companies applying blockchain technology gave their short-term and long-term forecasts for the coming year. They lively discussed how soon the crypto winter would be over, how it would result in, and how the decentralized technology would develop in current conditions.
The majority of experts see eye to eye on blockchain being used more extensively in finances, government control, education, data storage, and banking sector.
Companies will more frequently experiment with new technology features, and a range of solutions based on blockchain will expand. It is caused by the fact that the decentralized technology is no longer enigmatic and unclear, while companies' CEOs have shifted from the question "What is blockchain?" to the question "How can we use this technology?". This is the view of Xinshu Dong, CEO at Zilliqa blockchain platform, Roger Lim, Founding Partner at NEO Global Capital, and Max Kordek, Co-founder and CEO at Lisk platform.
"The emergence of smart contracts offers a technical basis for development and introduction of scalable legal products. I hope that in 2019 we will apply this technology not only in the legal sector, but also in the variety of industries that can and should benefit from its transparency, speed, efficiency, and reliability," believes Casey Kuhlman, Co-founder and CEO at Monax blockchain platform.
Such specialists as Craig McGregor, Co-founder and CEO at DSTOQ, as well as Frank Wagner, Co-founder and CEO at INVAO, say that cryptocurrencies will show the growth in 2019. It is clearer regulation and common integration of digital currencies that can significantly encourage their stability. It will help to improve the market and attract new investments in the cryptocurrency sector.
Blockchain to provide confidentiality on the Web
The BlackSnail research group studying privacy issues in an online environment has conducted an analysis of expert opinions from around the Internet, preparing its own top list of blockchain forecasts for 2019. Well, the group stresses the increasing need for online confidentiality as one of the important areas. This will enhance the demand for blockchain technology among those developing data security apps.
Blockchain in public sector and logistics
Due to the successful application of blockchain in voting, the credibility to the technology has increased in several US states. This trend means that it will be more widely used in the public sector. Besides the above-mentioned government sector, financial industry, and insurance, blockchain will be also applied in logistics. In 2018, such major companies as Walmart, IBM, and Maersk started efficiently utilizing the technology for deliveries and transportation.
Will Facebook launch its own cryptocurrency?
Facebook will keep working on the integration of cryptocurrency payments into its social network. Perhaps, the company will create its own digital currency to be subsequently used on the messenger. Since last year, Facebook has been extensively exploring the ways to apply blockchain on its platform. Moreover, David Marcus, company's Vice President, previously announced the plans to develop a cryptocurrency. Truly speaking, it happened prior to the market decline.
Results
Industry experts do not predict an incredible growth of the cryptocurrency market, but they bet on the development and application of blockchain technology in various sectors.
Specialists believe that the credibility to blockchain is growing, while the successful application of technology has been drawing attention of both major and small companies over the past two years.
Thus, 2019 can show a substantial growth of investments in the development of blockchain solutions allowing to speed up any business processes and make them efficient. This year, blockchain will be most actively applied in the financial sector, insurance, banking operations, as well as logistics and information protection.
---
Cryptocurrency experts will discuss the blockchain technology and its use at Blockchain & Bitcoin Conference Prague.
Meet new speakers and key news of the conference